Beautiful moutains and their spectacular scenery, permitting us to escape from hectic life, are very frequented. So everybody must admit to make an effort, in order to respect them.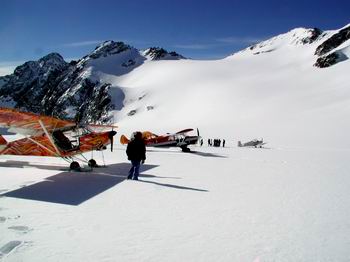 As more and more people resort to the mountain, they tend to disturb each other: shelters supply, rubbish evacuation with helicopterflights, numerous skilifts with pylons and cables, noise and...crowd.
Moutain sport pilots must be aware of many difficulties ( air movement, gradients, quality of snow, glaciers life and changes...) Moreover, technical flying problems induce a hight selection rate, therefore a reduce number! They just land and fly away, without rubbish and without any public help. They follow their rule of sobriety and their ethics of strictness. They land on few glaciers and stop flying or divert if a roped party is passing nearby...
Glacier pilots are real sportsmen, and often mountaineers as well. They fly quietly, because they are few and most aeroplane have now been equiped with silent exhaust (since 1997).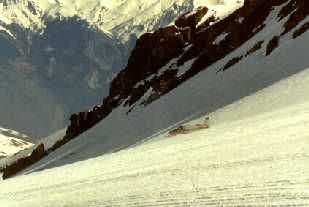 They most not be confused with useful, but noisy helicopters.
So glacier pilots ask for acknowledgement of their discreetness in comparison with the other mountain enthusiasts. Everybody has got his own speciality and must be allowed to carry on it without any exclusive rights.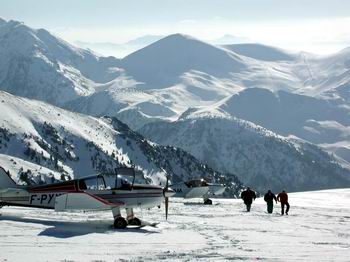 Whom belong the mountain ?...
To everybody, provided he respects the scenery...
and the other people !
AFPM / EMP